What Is Outpatient Rehab?
Outpatient rehab is a drug and alcohol treatment program that is outside of the home. This means that outpatient drug rehab patients get to spend the night in the comfort of their own homes.
Treatment for outpatient programs can occur during the day or evening. The type of treatment you'll receive in outpatient rehab also varies depending on what stage of recovery you're in.
Constant Structures of Outpatient Rehab
There are many variations within the structure of outpatient treatment programs. Still, there are some aspects of outpatient programs that are constant. For example, all medical professionals structure their outpatient programs with psychotherapy being the main component.
Most outpatient rehabs also structure their programs with treatments that lend themselves to three core phases. These are the outpatient program itself, relapse prevention, and ongoing recovery support.
Possible treatments within an outpatient program include different forms of therapy and counseling, withdrawal management services, medication-assisted treatment, and alternative treatments. During the relapse prevention phase of outpatient rehab, patients may receive relapse prevention education and attend support groups. To help maintain ongoing recovery after rehab is over, patients can attend anonymous recovery support groups.
Different Structures of Outpatient Rehab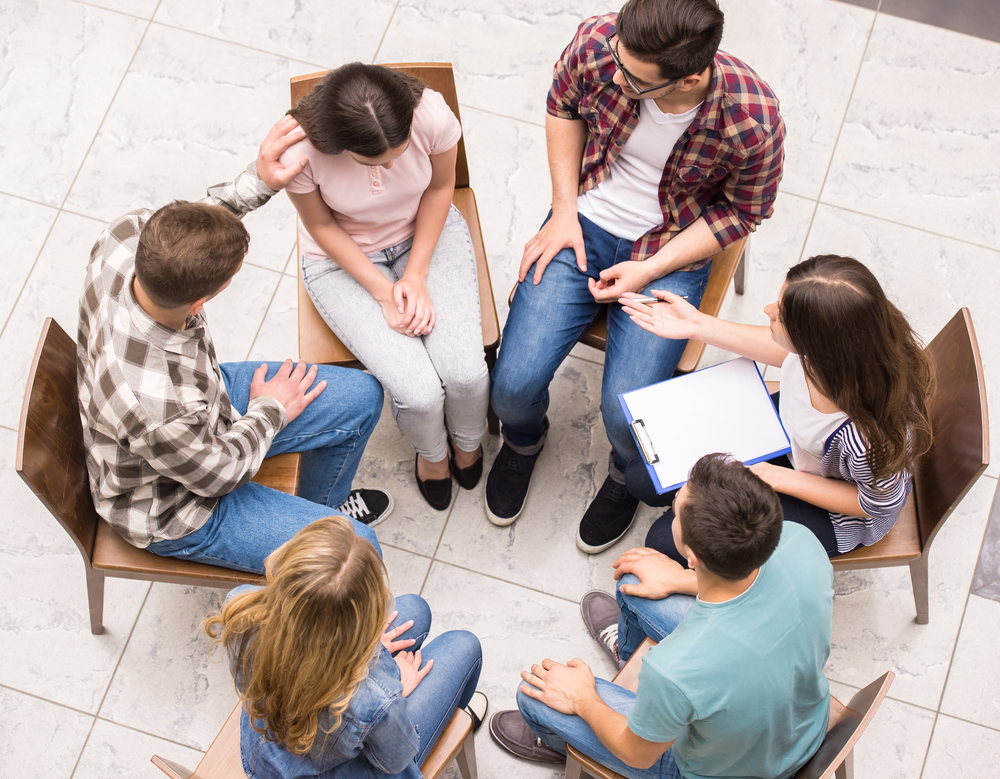 The exact schedule and structure of an outpatient treatment program depend on the lifestyle and needs of the patients. For example, the structure of outpatient rehab can vary depending on how far along the patients are in their recovery.
If you are early in your recovery, you'll need an outpatient program that meets up all day, every day. If you are further along in your recovery, you should attend an outpatient rehab that meets up for a few hours a day, a few days each week.
Something else that factors into the structure of an outpatient treatment program is the patient's responsibilities. If you do not work a day job, you can attend an outpatient program that occurs all day, all week. You could even live in a sober home over the course of your rehab.
If you do have a day job, you should attend an outpatient program that offers treatment in the evenings for a few hours at a time. When dealing with individual treatments and therapy, you can even sometimes schedule your appointments with your outpatient physicians and therapists.
For more flexibility, you may be able to attend different aspects of your outpatient program at different facilities. For example, you could schedule your appointments with outpatient physicians at one facility and attend therapy and support groups at another facility. When the law or your employer is mandating you to go to rehab, you won't have the flexibility to choose when you receive treatment.
Who Should Go to Outpatient Rehab?
Outpatient rehab is for people who are stable enough not to need the 24/7 monitoring of inpatient treatment. Therefore, if you are experiencing severe withdrawals, attend inpatient rehab. If you have a severe addiction to substances that are highly addictive, like heroin or oxycodone, you should also attend inpatient rehab.
Essentially, outpatient rehab is best used by people that either have mild substance abuse problems or are already far along in their recovery journey. If you are someone who is passionate about overcoming your addiction, outpatient treatment could be the form of rehab for you.
Types of Outpatient Drug Rehab
Forms of outpatient drug rehab vary depending on the addiction severity of the patients within the rehab programs. They also depend on the stage of recovery patients are in. There are three major types of outpatient drug rehab.
Day Treatment
Within the average daytime outpatient treatment program, patients receive treatment for five to seven days a week for up to around six hours a day. To receive this form of treatment, you have to free your daytime schedule. You can't have many job or family responsibilities while attending daytime outpatient treatment.
The long hours of daytime outpatient rehab also lend itself to needing high levels of structure. For example, during outpatient rehab, you will have scheduled time for hospital treatment, individual and group therapy, biofeedback, and other activities.
Since patients in daytime outpatient treatment are early enough in their recovery to still need hospital and withdrawal services, treatment is so extensive and structured. In fact, daytime outpatient treatment is often the next step down after inpatient treatment and/or detox.
People in daytime outpatient treatment go to several therapy sessions within one day. The total length of time of daytime outpatient treatment is around two to four weeks.
Intensive Outpatient Treatment
Intensive outpatient treatment (IOP) programs also have high levels of structure. In fact, there are progress milestones that are defined and measurable within this treatment program. While intensive outpatient treatment is structured and indeed intense, it does not take as much time as daytime outpatient treatment does. As a result, intensive outpatient treatment usually occurs for only a few hours, three to five days in the week.
This mode of treatment is a step down from residential inpatient treatment. Still, patients of intensive outpatient treatments tend to have more autonomy than those in daytime outpatient treatments.
IOP lasts about two to four weeks. The focus of intensive outpatient treatment is often on relapse prevention and successfully transitioning back into the real world.
Intensive outpatient treatment is a good option for people that need to attend outpatient treatment but also still need to work and perform daily responsibilities.
Continuing Care
Continuing care is a term that refers to counseling groups that people who attended outpatient rehab go to to gain support. Continuing care groups are also good at helping people maintain their sobriety while in the real world.
Examples of continuing care groups include Alcoholics Anonymous and Narcotics Anonymous. Continuing care groups are facilitated by licensed therapists and occur once a week. Some continuing care groups are separated by things such as gender, age, or type of recovery.
Therapy Options Offered in Outpatient Drug Rehab
Like many forms of drug and alcohol treatment, therapy is a staple of outpatient rehab. There are many different types of therapy that medical professionals use in outpatient rehab.
Individual Therapy
Individual therapy is a form of talk therapy that is one-on-one between you and your therapist. There are many benefits to individual therapy. One of these benefits is having the ability to work through your own issues on your own terms in your own time. This is different from group therapy in which you have to think about and discuss issues at the same pace as everyone in the session.
Another benefit of individual therapy is that you get the opportunity to discuss things that you are normally too embarrassed to talk about. Even more beneficial than the ability to talk about private and embarrassing stories about yourself, is the ability to do so knowing that everything that you say is confidential.
Group Therapy
Group therapy is a form of talk therapy that includes one therapist, you, and several other people that suffer from similar issues as you. One benefit of group therapy is its ability to learn from the mistakes of other people within your rehab group. Another benefit of group therapy is the level of support, love, and connections you receive from your fellow rehab group members.
Family Therapy
Family therapy is beneficial for addicts in an outpatient rehab program because it allows the family members of the addicts to address any resentful feelings that they have towards them. By repairing the relationship addicts have with their families, the world that these addicts live in becomes more conducive to maintaining sobriety.
Family therapy also provides family members of addicts with the opportunity to learn more about addiction. On top of this, family therapy provides family members of addicts with the opportunity to learn how to create healthy boundaries with one another.
Alternative Therapy
Alternative therapy is any form of therapy that has healing properties without biological plausibility or proven studies and tests. Examples of alternative therapy include art therapy, music therapy, acupuncture, and aromatherapy.
Receive Treatment at CNV Detox
At CNV Detox, we offer a variety of drug and alcohol treatment programs. These range from 12 step programs to dual diagnosis therapy programs, to non-medical detox programs. 
The CNV Detox drug rehab in California also provides all of our members with individualized care and treatment. Whether you are suffering from an addiction to alcohol, heroin, Xanax, or prescription medication, we have rehab services for you.
To read some of the CNV Detox testimonials, check out our website. To contact us about our detox center and its services, call us today!