When COVID-19 struck the U.S., doctors began implementing the minimally used telehealth option for medical treatment for all non-emergent cases. This included treatment for substance abuse. Increased access to online addiction counseling over the last few months has allowed more individuals to seek treatment.
Substance abuse recovery is a long journey that requires outside support to be successful. But, life is busy, and it can be challenging to find time to go to counseling or enter a treatment program. Or maybe the embarrassment of addiction is stopping a person from seeking treatment. This is when online addiction counseling can help. Individuals can receive counseling online from the comfort of their home, eliminating the fear of being seen or the annoyance of traffic.
How Does Online Substance Abuse Counseling Work?
Online substance abuse counseling allows individuals to receive treatment through a virtual platform. Counselors speak to clients via video conferencing technology, and this provides a close resemblance to in-person meetings. Group online addiction counseling can also be accessed in the same manner. Support from other individuals is extremely vital to the recovery process.
The goals of online substance abuse counseling are the same as traditional counseling. Clients and counselors work together to set goals, change behaviors, and repair relationships damaged by addiction. Just as in traditional treatment, treatment plans and goals are designed for the individual's personal and addiction needs.
During online substance abuse counseling, the therapist uses the same therapeutic techniques, including cognitive behavioral therapy, motivational interviewing, and group processing. Clients still have group meetings to build recovery skills. The only difference is that it is not in-person, but over a computer screen.
Online Addiction Therapy Options
Some forms of evidence-based addiction therapies are easier to adapt to an online format than others. These include:
Cognitive behavioral therapy (CBT) is a highly successful form of addiction treatment. CBT focuses on identifying and avoiding negative thoughts and behaviors. CBT can help individuals learn to recognize triggers that can lead to cravings and how to avoid them.
Motivational interviewing is when a counselor leads a structured conversation that allows a person to recognize how addiction has affected their lives. Individuals realize that stopping substance abuse can significantly improve their lives.
Benefits of Online Addiction Counseling
Online addiction counseling has multiple benefits for those overcoming addiction. The benefits range from increased accessibility to increased comfort levels. Other benefits include:
Flexibility
Online addiction counseling can take place anywhere there is an internet connection. Since most people have a cell phone with internet access, counseling and support are available at the push of a button.
More Privacy
Individuals hiding their addiction from friends, family, and coworkers might fear that their secret will be revealed if they seek treatment. Online addiction counseling takes away that risk. Being in the privacy and comfort of your own home allows you to open up about your struggles.
Access for People in Rural Areas
34 percent of adults in rural America struggle with addiction issues. Alcohol, tobacco, and drug use is extremely high in small towns, but access to treatment is minimal. Online addiction treatment allows individuals in rural areas to receive this treatment.
Increased Treatment Longevity
Online addiction counseling can be a stepping stone for seeking more intense treatment. Many individuals find that supplementing online addiction counseling with face-to-face counseling offers greater support on the recovery journey.
Treatment from Home
Individuals who have a difficult time leaving their house or are homebound for health issues can easily access addiction treatment online. Some people do not have access to in-person addiction treatment because they lack transportation. With online addiction counseling, the need for transportation, and traffic, is not a factor.
Disadvantages of Online Substance Abuse Counseling
Online substance abuse counseling has many benefits, but that does not mean it's right for everyone. A few disadvantages of online substance abuse counseling include:
Detox
Online substance abuse counseling may not be useful for a person who needs to detox first. Many substances like opioids and alcohol require a medical detox program to rid the body of the substance safely.
Lack of Human Touch
With online substance abuse counseling via video conferencing, individuals can see their counselor, but it can still feel impersonal. It can be challenging to interpret body language through a screen. Some people need the in-person connection that traditional treatment provides.
Distractions
In traditional addiction treatment, the counselor provides a distraction-free environment. But with online substance abuse counseling, many distractions can interfere with productive therapy. Children are screaming, dryer buzzer going off, and a noisy environment can all cause distractions.
What to Expect from Online Addiction Counseling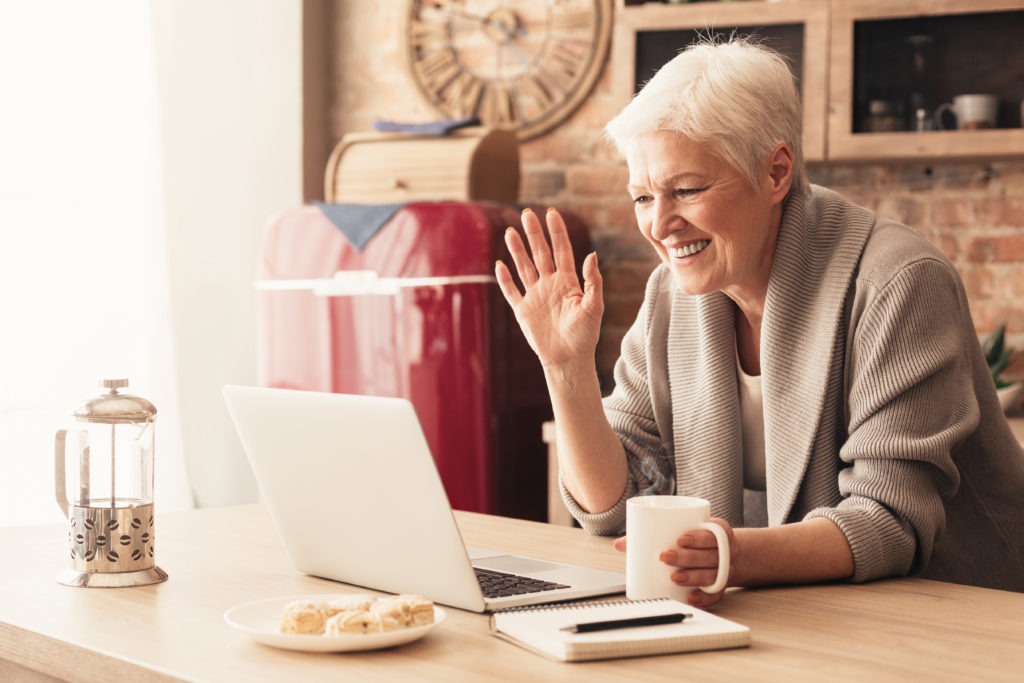 Online addiction counseling uses a variety of technologies to deliver addiction treatment. The different mediums that provide this allow many to access treatment they wouldn't have otherwise. These include:
Therapist-Led Online Therapy
Therapists use video conferencing, phone calls, emails, and text to meet with clients. Counseling sessions will be similar to in-person meetings, just not in-person. Keep in mind that online addiction counseling is not compliant with the Health Insurance Portability and Accountability Act (HIPAA). Therapists follow HIPAA laws but can not control any unforeseen incidents such as getting hacked or someone on your end hearing the conversation.
Computer-Assisted Therapy
Individuals have access to an online curriculum that requires little to no interaction with a therapist. A person might watch videos, follow tutorials, and complete homework in a preset group of lessons.
Web-Based Therapy
This approach uses mobile apps and therapy websites to guide people along their recovery journey.
Technology-Supplemented Therapy
This approach to addiction counseling combines traditional treatment with technologies such as video calls, text messaging, phone calls, and mobile apps.
The approach that works best is based on an individual's personal and addiction needs. These factors can include the severity of symptoms, which will dictate the best mode of treatment. If a person requires inpatient treatment or hospitalization, then online addiction counseling won't be beneficial.
Is Online Addiction Counseling Effective?
Traditional addiction counseling can have a high dropout rate for many reasons. This suggests that traditional treatment for addiction may not be right for everyone. Online addiction counseling may meet the needs of the individuals who did not find traditional treatment useful.
In a study published in The American Journal of Psychiatry, 255 individuals took part in a web-based program. In comparison, 255 other individuals took part in traditional treatment. The study showed that the people in the web-based program reduced their alcohol and substance abuse. It also showed that those participants were more likely to engage in traditional treatment while supplementing with online programs.
This study suggests that online addiction counseling is effective for treating substance use disorders. It also indicates that online addiction counseling can increase participation in traditional treatment. Online addiction counseling is the starting point for many individuals seeking treatment and is proven to be very beneficial.
Is Online Substance Abuse Counseling Right for You?
You still may be wondering if online substance abuse counseling is right for you. The only person who can answer that question is you. Addiction treatment is a personal and individualized journey.
Even though the benefits of online addiction counseling have been discussed, it is best to talk to professional addiction counselors for advice. The compassionate and professional counselors at CNV Detox are available 24/7 to guide you to the best treatment options for your addiction needs. If you are considering online substance abuse counseling, ask yourself three questions:
Am I comfortable using a smartphone or computer to access video conferencing platforms?
Do I have access to a private environment for counseling?
Is face-to-face communication vital to expressing yourself fully?
Just like in traditional treatment, people will only get as much out of online treatment as they put in. So if you are not willing to work hard and be dedicated to your sobriety, neither type of treatment will work for you. But if your life is busy and you are willing to work hard at recovery, then online substance abuse counseling can be beneficial.
Additional Online Addiction Services
Even with the best addiction therapist guiding you on your journey, a person can never have too big of a support system. One of the most significant benefits of the internet is the ability to connect individuals across the world. Someone is always awake and a click away from helping you through a tough moment.
Facebook, Instagram, TikTok, and many other apps make it possible never to feel alone. When you are on the verge of relapse, millions of people are there to support you through and not let you fall. Support groups like Alcoholics Anonymous and Narcotics Anonymous have apps that put in touch with meetings, sponsors, and others willing to hold your hand and listen to your struggles.
And remember, your struggles are also someone else's. When you reach out for help in a group chat or meeting, someone else may learn from you. Even though you might be thinking, "Why am I even alive?" you can help others by talking. And in return, you start to see your self-worth and that you are important. All of this increases your chances of a lifetime of sobriety.
Start Living Life Today with CNV Detox
What are you waiting for? Just imagine how many people you can help by seeking help for yourself! Whether you need more information about online addiction counseling or any of our traditional treatment options, our staff is waiting to answer your questions. Contact us today and start living your best life!
References: