What are the Short-Term Effects of Alcohol?
Drinking alcohol leads to effects such as euphoria, intoxication, mood changes, drowsiness, reduced ability to pay attention, and memory issues.
When a person drinks, the ethanol depresses brain function between the excitatory and inhibitory neurotransmitters. Alcohol increases inhibitory neurotransmission and decreases excitatory neurotransmissions.
If the person continues to drink, the depressive effects progress to lethargy, confusion, amnesia, loss of sensation, breathing difficulties, and possibly death.
The psychoactive drug ingredient in alcohol is ethanol. When a person drinks, ethanol relaxes and also produces feelings of euphoria. When a person drinks in excess, intoxication occurs, and pronounced feelings of relaxation and euphoria give way to exhaustion, hangovers, depression, vomiting, and sometimes passing out. These effects occur because alcohol works on the neurotransmitters in the brain.
When alcohol depresses the excitatory neurotransmission, it results in a reduction of social inhibitions. The person becomes less shy, more talkative, bolder, and may do things he or she would not ordinarily do in social situations.
What are the Long-Term Effects of Alcohol?
Prolonged consumption decreases the functioning of the GABA-A receptors in the brain that leads to a decrease in the sensitivity the brain has to neurotransmission. This loss of functioning leads to tolerance as well as alcohol withdrawal symptoms if the individual tries to stop drinking.
Alcohol Tolerance
Alcohol tolerance is where the person needs to drink more to gain the same previous effects. This happens because the brain is compensating for the alcohol's effects on its functions. The GABA-A receptors attempt to resist the effects, so the person increases the amount he or she is drinking to overcome this compensatory response.
What are the Symptoms of Alcohol Withdrawal?
When a person suddenly stops drinking, withdrawal symptoms that may follow can include:
Tremors
Seizures
Sleeplessness
Hallucinations
Confusion
Agitation
Delirium Tremens (DTs)
When an individual gets pleasure from drinking alcohol and repeats the behavior to obtain more pleasure, this repetition can lead to the brain adapting to ever-present alcohol. When consumption is abruptly stopped, the brain's adaptive response is to send out feelings of discomfort and cravings.
These adaptive responses spur the individual to seek out alcohol. Complex, repetitive interactions between neurotransmitters in the brain drive alcohol-pursuing behaviors. When these behaviors constantly cycle (drink – stop – cravings – drink), it is a fully active addiction.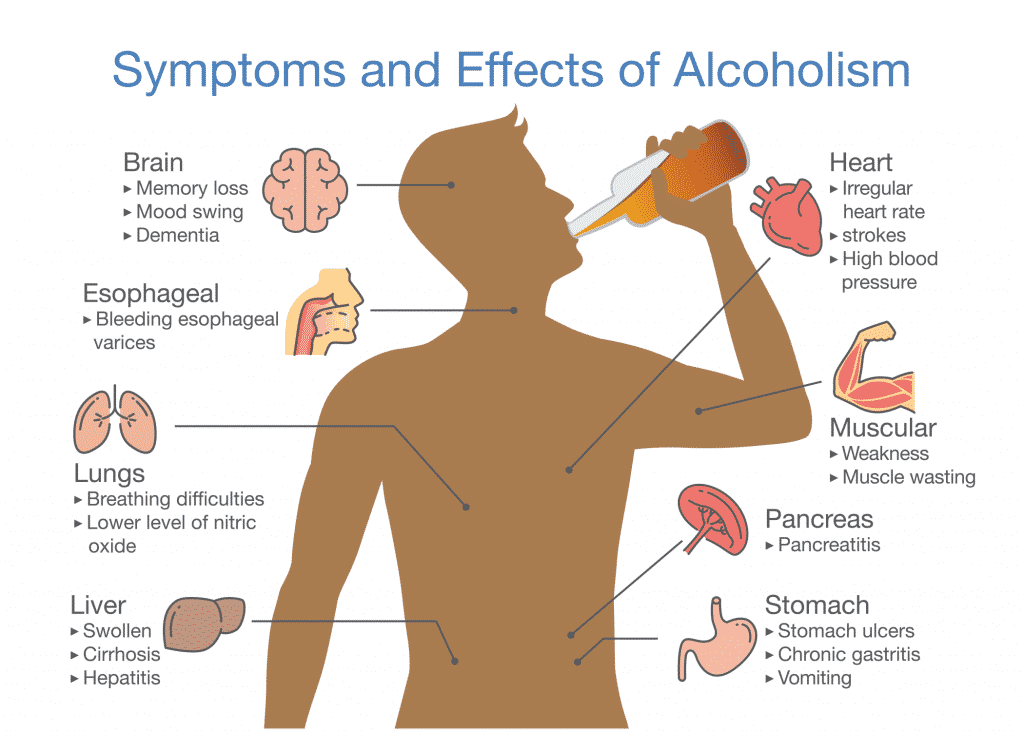 What is Detox from Alcohol Like?
When a person is an alcohol-dependent, withdrawal symptoms after stopping can appear very quickly. Withdrawal symptoms manifest which include nervous system arousal, seizures, hallucinations, and delirium tremens (DT). To control or prevent these symptoms and avoid further complications and possibly death, a medically supervised detox in a formal treatment setting is recommended.
The management of alcohol withdrawal syndrome during a detox uses medications. If specific complications arise during alcohol withdrawal such as DTs and seizures, medications are on hand to be instantly administered.
Remember, detox is not a standalone treatment. Once alcohol is safely removed from the body, a rehab program is needed to avoid relapse. Also, home detox is not recommended. Detoxing at home is dangerous because if any serious withdrawal symptoms or complications occur (and they can happen quickly), there is no medical staff on hand to help.