An IOP (intensive outpatient) program is an addiction treatment program that allows its patients to receive intensive care for a period of time in the evenings while still allowing them to spend the night in their homes. Intensive outpatient programs are made for people that need to maintain their daytime jobs and responsibilities while receiving addiction treatment.
An IOP program is also made for people that are able to maintain their sobriety at home during the night. This means that your substance abuse addiction is not severe and you have the ability to stay sober when you're alone.
This also means that you need to have a home that is conducive to staying sober. A home like this only has supportive and sober family members and/or friends living in it.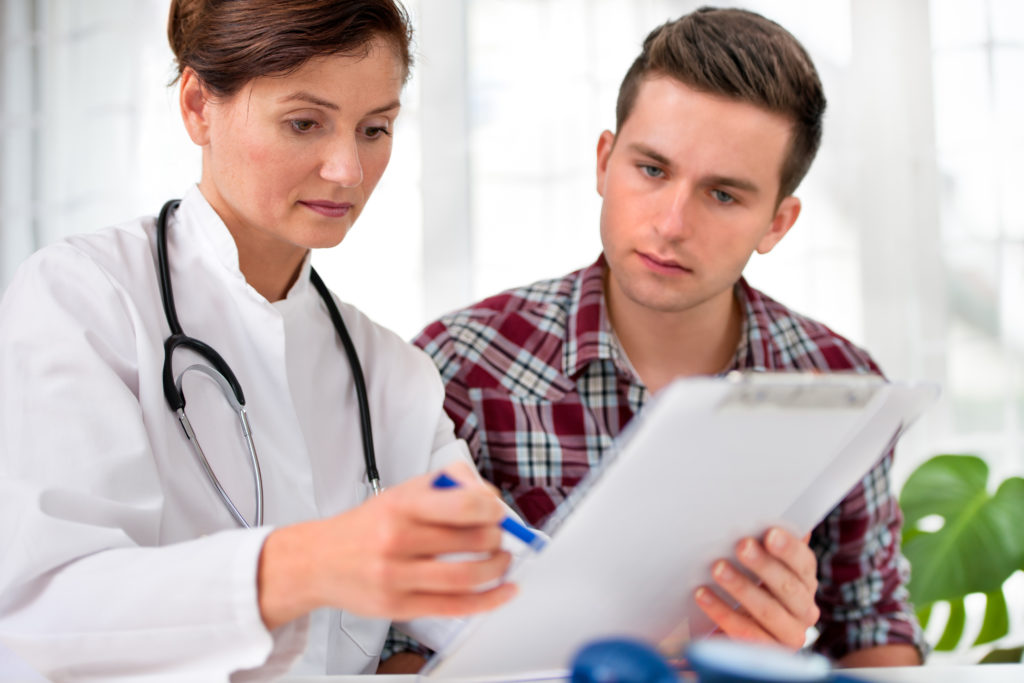 If there are people in your home who use drugs and/or alcohol, you should receive inpatient treatment. If no one in your house uses drugs and/or alcohol but you still feel that your home environment is not conducive to maintaining sobriety, you can live in a sober house while receiving intensive outpatient treatment. People with co-occurring disorders are advised to receive some sort of inpatient addiction treatment.
What to Expect in an IOP Program
You should go to an IOP program for around three hours in the evening, three to five days a week. The different treatments used within your intensive outpatient program could vary depending on what IOP program you go to.
Most intensive outpatient programs will require you to attend nine to 12 hours of group and individual therapy each week, along with a 12-step program. An intensive outpatient program should be less time-consuming and rigorous than an inpatient program, but more rigorous and time-encompassing than a standard outpatient program.
Treatments Used In An IOP Program
Like all inpatient and outpatient addiction treatment programs, there are a variety of treatments that intensive outpatient programs use. Most intensive outpatient programs do not offer detox treatments. If you do need detox, the IOP program will likely refer you to a detox facility.
Although there is no detox in intensive outpatient programs, there are a plethora of therapy treatments.
Some of the therapy treatments used in intensive outpatient programs include:
Cognitive Behavioral Therapy
Cognitive behavioral therapy (CBT) is a form of behavioral therapy that identifies destructive thoughts, feelings, and behaviors. Once you and your therapist identify these, CBT actively changes them into positive ones. In intensive outpatient programs, therapists use CBT to change patients' addiction-inducing thoughts, feelings, and behaviors into positive ones.
Group Therapy
Group therapy is a major component of intensive outpatient programs. Through group therapy, IOP program patients can improve their communication and socialization skills.
Group therapy also provides IOP program patients with a group of supporters that are going through the same issues. Fellow group therapy members can even provide IOP program members with feedback on their progress.
Group therapy is often an informational hub for all group therapy members and therapists. This is partly because group therapy members that are further along in their recovery can provide advice for newer members. Group therapy also provides a forum to discuss ideas.
IOP programs use a variety of different forms of group therapy. Some of these forms of group therapy are listed below.
Skills-development groups: Here, IOP program members practice behaviors in safety.
Psychoeducational groups: These groups provide IOP program members with emotional support, education, and problem-solving skills and techniques.
Refusal training groups: In refusal training, IOP program members practice turning down invitations to have the drugs of their choice.
Relapse prevention groups: These help patients identify the addiction triggers and high-risk situations that they have in their lives. The group members then figure out ways to avoid and manage these triggers and risks.
Family groups: In these types of groups, IOP program members and their families learn how to support one another and communicate.
Individual Therapy
Individual therapy is part of most IOP programs. Still, it is not as major of a component of intensive outpatient programs as group therapy. Most people in IOP programs who receive individual therapy do so one or more times a week.
Individual therapy is a great tool for digging deeper into what IOP program patients learned in their group therapy sessions. Individual therapy is also a great form of therapy for IOP program patients who are too shy or embarrassed to be vocal about their issues during group therapy.
In IOP programs, each patient is matched with a therapist for individual therapy.
Alternative Therapies
Many intensive outpatient programs utilize alternative forms of therapy. Examples include skating, art therapy, music therapy, adventure therapy, and equine-assisted therapy. By participating in alternative therapies, IOP program members can tap into non-verbal ways of healing.
Support Groups
You're encouraged to attend support groups after addiction treatment is over. Doing so will help you maintain your sobriety. Examples of addiction treatment support groups include 12-step groups like Alcoholics Anonymous and Narcotic Anonymous. Many IOP program facilities even host their own support groups to make it easier for people to join.
Motivational Interviewing
Motivational interviewing helps IOP program members understand why they are hesitant to receive treatment. During motivational interviewing, therapists ask IOP program members to think about the ways drugs and alcohol have had a negative effect on their lives. The therapists will then motivate the IOP program members to take responsibility for changing their behaviors into healthier ones.
Matrix Model
The matrix model uses a combination of different therapeutic practices. It teaches IOP program members that are addicted to stimulants how to better manage their time. It also teaches IOP program members how to practice relapse prevention techniques.
Matrix model therapy even provides therapists with the opportunity to teach IOP program members how to engage in community support groups. The key to matrix model therapy being successful is having a good relationship between the therapists and the patients.
What to Look for In An IOP Program
There are certain features an intensive outpatient program needs to have to be effective and client-focused. If your prospective intensive outpatient program does not go out of its way to provide these, it may not be the IOP program for you.
Easily Accessible Treatments
It should not take too much work or time to enter an intensive outpatient program. The work should happen during the program, not before. A private IOP program should make starting a new program easier for prospective patients by not having a long waitlist.
Personalized Care
The best addiction treatment programs offer tailor-made care for each patient. An intensive outpatient program that does not offer variations in treatment packages based on your individual needs is not the one you want to be in.
Medical Treatments
While most intensive outpatient programs do not offer detox treatments, all IOP programs should still offer medical care. Medical staff and treatments are a must when dealing with people who suffer from addiction.
Empirically Researched Treatment
Any legit addiction treatment program bases its program on evidence-based practices. Therefore, your IOP program should offer a plethora of treatments whose positive effects are empirically researched.
Social Support
Support groups play a major role in the ultimate success of intensive outpatient programs. Any IOP program that you're looking to participate in should offer peer support through group therapy and support group sessions. The best IOP programs also offer aftercare services that you can turn to once your treatment is over.
Ongoing Treatment
You must receive intensive treatment for as long as you need to overcome your addiction. Therefore, look for an intensive outpatient program that offers treatment for a variety of lengths of time. Also, look for IOP programs that allow you to transition from high-level intensive outpatient treatments to treatments of lesser intensity. This may mean receiving treatment for the full 90 days.
Benefits of An Intensive Outpatient Program
There are numerous benefits to entering an intensive outpatient program. If you don't believe us, check out the list of benefits below.
Allows You to Maintain Your Job and Day to Day Responsibilities
Inpatient programs force you to dedicate your entire day, and sometimes even night, to attending treatments. Intensive outpatient programs are different in that they give you enough free time to keep up with any jobs or responsibilities that you have.
The ability to schedule out your treatments is especially great for parents of young children. This is because parents of young children cannot leave their children alone in the house without supervision.
Ability to Meet Up With Family and Friends
When recovering from addiction, you should cut out toxic friends in your life. Still, it is also important to learn how to communicate with your healthy family members and friends while sober.
One benefit of IOP programs is that they allow you to work on your relationships with others while attending addiction treatment. Maintaining these relationships can help build an at-home support group that lasts far past your IOP program.
Helps You Maintain Your Privacy
Attending inpatient or outpatient programs that take up your entire day makes it obvious that you are receiving addiction treatment. This is especially true if you are attending an inpatient, or residential treatment program.
When you're in an intensive outpatient program, it is easy to keep it a secret. This is because IOP programs are so good at allowing you to maintain your day to day jobs and responsibilities. Thus, no person will be the wiser.
It's Affordable
Intensive outpatient programs are much more affordable than nearly any other type of treatment program. This is because IOP programs do not require you to live in their facilities. It also helps that you only have to attend intensive outpatient programs for about a few hours each day.
CNV Detox Addiction Treatment Services
CNV Detox offers different inpatient and outpatient addiction treatment services in which you can participate. Our treatment services help treat people that suffer from addiction to everything from alcohol and heroin, to cocaine and prescription medications.
To learn more about CNV Detox and our different addiction treatment programs, feel free to contact us any time.