Since 1992, the World Health Organization (WHO), the World Federation of Mental Health, and other mental health organizations have celebrated World Mental Health Day on October 10. This year, in the middle of the COVID-19 pandemic, mental health issues are of critical concern. Reports of mental health news show that people around the world are dealing with stress, depression and anxiety at concerning levels. The importance of mental health awareness at this time cannot be stressed enough.
The Importance of Mental Health Awareness
The World Federation of Mental Health (WFMH) established World Mental Health Day to help deal with the stigma that develops around mental health issues. Physical injuries and illnesses often have a clear path to treatment. On the other hand, mental illnesses sometimes arrive without warning, resulting in irrational and uncomfortable behaviors. In many places, mental health facilities are geared to remove people struggling with mental illnesses from the general population. Instead of offering healing treatment, they lock these individuals out of sight.
However, it has become clear that mental illness is not reserved for a few individuals. According to WHO, 1 in 5 children in the world has some form of mental illness. In the United States, suicide rates increased by 35% between 1999 and 2018, and many people who took their own lives exhibited symptoms of mental illness.
Mental Health Care as a Human Right
WHO and WFMH stress the importance of mental health awareness. These organizations want the world to see mental health care as a basic human right. The United Nations encourages universal mental health coverage as part of the solution to ending poverty. In low-income countries, about 75% of those dealing with mental illnesses have no access to mental health services.
The year's World Mental Health Day looks to remedy that situation. The organizers want to emphasize the importance of paying attention to mental health news and funding solutions.
Because of the current health crisis, the official mental health day activities have gone online. WHO is sponsoring two major events: the 24-Hour March for Mental Health on October 9 and the Big Event for Mental Health on October 10.
Both of these World Mental Health Day activities will feature speakers, artists, and musicians from around the world who will reflect on the importance of mental health awareness. Some of these participants are professionals in the field of mental health. Other speakers are people who have seen the benefit of mental health care in dealing with their illnesses.
Investing in Mental Health
Due to the stigma surrounding mental illness, mental health care can be a low budget priority. For example, if the prevailing culture believes that chemical addiction is just about making bad choices, a country will be apt to fund law enforcement over addiction therapies. As a whole, the nations of the world only invest two-percent of their health budgets toward mental health care. As the World Mental Health Day programs will highlight, investing in mental health benefits the whole of society.
According to WHO, mental illness takes away $1 trillion from the global economy. People dealing with mental illness can lose their jobs or need extended sick leave. For every dollar that a nation spends on treatment for illnesses like depression or anxiety, it brings $5 back into the economy. Every dollar spent on treatments for drug dependence returns $7 in reduced costs to the criminal justice system. The positive impact on the economy may help governments realize the importance of mental health awareness.
This year, the goal of the World Health Organization is to spread this mental health news. When countries increase funding for mental illness treatment, it improves the health of the whole world community.
Mental Health in California
The mental health news in California is troubling. In California, mental illness is one of the most common health issues that people face every day. According to the California Health Care Foundation, 1 in 6 people in the state experience some form of mental illness. One in 24 has such a serious issue that it prevents day-to-day functioning and employment.
These statistics point to the importance of adequate mental health funding. Mental illness is more common in individuals with lower incomes. This trend may be due to the difficulty in receiving an education or holding a job. The general stress of poverty is another factor to consider.
How Can I Participate in World Mental Health Day?
There are several ways that people can participate in World Mental Health Day activities while maintaining social distance. Individuals can watch the presentations from the World Health Organization, especially the Big Event for Mental Health. Writing emails to government leaders about the importance of mental health awareness is another outlet.
You might also try some practices to improve your personal mental health. California is full of beautiful outdoor spaces. Walk on a forest trail and take in the natural wonder. Practice deep breathing and meditation. Sometimes, slowing down for a few moments is all it takes to help step away from the anxiety of this time.
Addiction, Dependence and Mental Health
Chemical dependence is one of the most widespread mental illnesses in the country. The regular and overuse of substances like drugs or alcohol changes the brain chemistry of people with this disease. For people predisposed to addiction, this change can happen quickly. Other people only experience dependence and addiction with long-term use of a substance. While you consider some World Mental Health Day activities, you might want to look at your relationship with drugs and alcohol.
The mental health news is clear. Addiction is a disease that requires treatment. People who struggle with addiction need help getting the substance out of their systems. They also must unlearn habits and deal with the stresses that lead them to use the substance.
Finding the Right Care for Addiction
Treatment for addiction and substance use entails extensive training and well-planned facilities. The goal of addiction treatment is to help those who experience addictions to walk away from their substances. This process is extremely difficult when a patient's body is going through cravings and withdrawal symptoms. At CNV Detox, we have both residential and outpatient programs that can help patients reach their goals.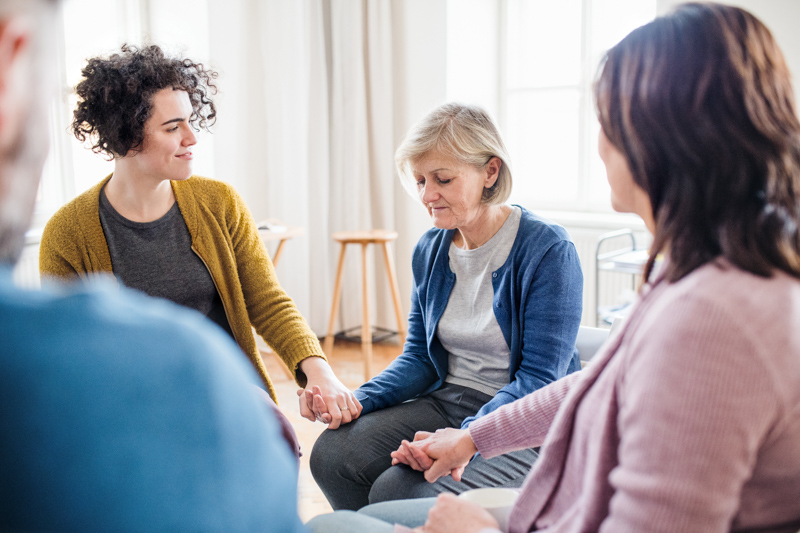 It's quite common for patients to have a substance abuse diagnosis combined with another mental health issue. In many cases, people become addicted to the substance as they self-medicate to deal with the mental illness. It's also possible for the continued use of drugs and alcohol to create chemical changes in the brain that lead to a secondary mental illness.
Dual diagnosis treatment involves getting a handle on the substance abuse while also working through the second diagnosis. Residential treatment creates a structured therapy schedule that will help you or your loved one move forward. Outpatient treatment involves regular group and individual counseling sessions.
The inpatient program at CNV Detox begins with one of the most difficult steps, detox. Our medically-supervised detox program will help people deal with the challenging symptoms of withdrawal. We can constantly monitor patients as they wean themselves from their substances.
Once the detox is complete, we begin a structured process of individual, group and family therapy sessions. At these appointments, patients will learn strategies for avoiding stressful situations and other triggers. We will also challenge patients to examine the thought patterns that lead to substance abuse.
In milder cases of addiction or for continued support, a course of outpatient treatment is a helpful and affordable path. The patient can stay at home and come to our facility for regular therapy sessions. As a patient transitions to living at home and getting back to work, individual and group therapy sessions are an important support.
Holistic therapies like meditation and yoga help patients channel their stress and anxiety in new directions. Art therapy can help some patients connect with their feelings in a new way. Many of our holistic therapies seek to balance physical and mental health. As a result, patients learn new, positive habits that will empower them to live substance-free.
Seeking a Full Recovery
On this International Mental Health Day, is it time to assess your personal mental health needs? If you or a loved one is struggling with addiction, let a call to CNV Detox be one of your mental health day activities. We are ready to help. Contact us today.
References:
https://www.who.int/news-room/detail/27-08-2020-world-mental-health-day-an-opportunity-to-kick-start-a-massive-scale-up-in-investment-in-mental-health
https://www.who.int/campaigns/world-mental-health-day/world-mental-health-day-2020/world-mental-health-day-campaign
https://www.nimh.nih.gov/health/statistics/suicide.shtml
https://www.chcf.org/publication/2018-edition-mental-health-ca-for-too-many-care-not-there/#:~:text=Mental%20health%20disorders%20are%20among,carry%20out%20major%20life%20activities.